Welcome to Plus2.com
At Plus 2, we take a consultative business approach. We listen, learn and will make educated suggestions based on our extensive experience. We look at all projects on an individual basis with four goals in mind:
1. Take the time to understand the business and objectives of each client.
2. Develop a Creative and Comprehensive successful promotional strategy.
3. Meet your budget and time constraints. (Rush service is available within as little as 24 hours, ask for details).
4. To deliver the highest quality of goods.
These 4 Steps gives Plus 2 the ability to suggest original and memorable products, packaging and ideas. Our clients depend on us to find the perfect solution in just the right time. Plus 2 works extremely hard to become an effective extension of your corporate team. Our success is based upon our unique talent to make good on our promises.
Featured Item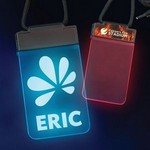 Lighted Badge™ - 1 Imprint Location
Your custom artwork laser-engraved into a glowing acrylic badge. Choose laser engraving —or— a full color top appliqué. 7 bright colors selectable by pressing on/off button or continuous cycle through...
$18.00 - $33.25